Sometimes we hurt. Sometimes we cry. Sometimes we are depressed. Our cluture often doesn't want to take time to express and feel the negative. In American Christianity there can be a strong pull to pass over the negative in favor of the positive side of things. Certainly there is a lot of optimism to our faith (Jesus defeated the grave!) but there is also room for lament (Jesus went to the grave). We all go through pain, loss and unexpected challenges. Sometimes we feel the sharp edges of our broken world. It can be unbarable to somehow talk as if rainbows exist without rain clouds or as if the resurection happened without the crusafixion. We need to grieve and lament in a broken world.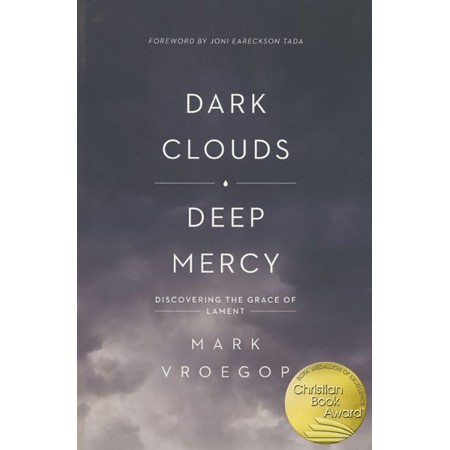 Dark Clouds Deep Mercy* was a really fantastic read and very helpful in understanding a fuller picture of God's sovereignty in our suffering. Written from a place of his own lament, Mark Vroegop, candidly shares how to pray through the laments found in scripture. As pastor he has been instrumental in helping individuals and groups process their own lament in a biblical way.
Dark Clouds Deep Mercy* is both exposition of some of the key texts of scripture (like Lametations, some of the Psalms, etc.) and exposition of the heart in lament. Vroegop writes in an intelligent but open style that allows the reader to enguage in the language of lament. I found the book extremely helpful in my own life and it's one that I will probably pass on to others.
From a pastoral perspective, Dark Clouds Deep Mercy*, is a fantastic resource to begin figuring out how to lament and lead people through a lamenting process. There are a few really goood resouces in the index. Should another edition be published, I'd like to see more information on leading a group prayer time and other aspects of corporate lament that were shared in the book. The tools are there, but in a rough form.
*This is an affiliate link. If you click on the link and purchase any items through Christianbook.com I will recieve an affiliate commission. (It helps me earn money for more books!) Reguardless, I only recommend products / services I use personally use and believe will add value to my readers.