I really enjoyed reading The Pastor's Family* by Brian and Cara Croft. I am a pastor and my dad was a pastor/ church planter growing up. I really appreciate all the resources that Brian Croft and his team at Practical Shepharding have brought to the table (they really fill a niche that was missing when I entered into ministry). This book was especially impactful and I am very grateful to Brian and Cara for spending the time to write it.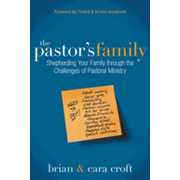 New pastors and their wives often don't know just how challenging ministry can be on a marriage and family. It only appears that ministry will grow even more challenging in the days ahead as the culture shifts and unreal expectations and demands are placed on pastors (by other or themeslves). I really appreciate the balance that Brian and Cara offer providing both pastor and spouse comment on the issues. I admire their candor and ability to share from their mistakes. I was especially intreagued by Brian's appeal to both good and bad examples of famous pastors from history who did a fantastic or regretful job of shepherding their own families.
Overall I walked away from the book challenged and inspired. It didn't share alot of informaiton that I didn't already know, but it provided something even more valuable, motivation. I want to be sure that I don't lose my first ministy, my family, while ministering to others. I also want to be sure that I don't idolize my family and forsake real opportunies to minister. Brian and Cara set forth a very practical way forward to balancing the demands of ministy and ministering to your family that don't pit those two against one another.
If you are a pastor looking for a very helpful and encouraging read on shepherding your family, this book is for you. I reccomend it to pastors, seminary students, individuals and spouses of those preparing for ministry. It's a helpful read for those who are already married and have children, but I can see how valuable it would have been to have read this before I was married and had children.
*This is an affiliate link. If you click on the link and purchase any items through Christianbook.com I will recieve an affiliate commission. (It helps me earn money for more books!) Reguardless, I only recommend products / services I use personally use and believe will add value to my readers.